Privacy Policy
I ask for your email address and confirmation of this request by Email because I intend to update my subscriber regarding news, new programs or new plans I will publish from time to time.
I will never sell, give,or expose my list of subscribers to any third party,
Simply because this is the biggest mistake an Internet marketer can do!
I use a state-of-the-art email system (Aweber) that allow my subscribers to unsubscribe themselves from the list at any point, automatically.
Earning Disclaimer
This book is based on the author's knowledge and experience;
there is no guarantee whatsoever of the reader's profiting therefrom.
The experience of many has shown that wise and considered action can result in a stable income from Internet marketing. This book is not a "get-rich-quick" scheme, but rather a guide for building a business or steady income from various online marketing methods.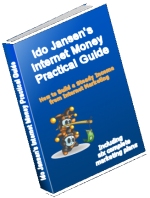 Fill In Your Email
and Name for
Instant Download!
Contact Ido
ido [ at ] pintmoney.com
(replace the [ at ] with @, this is to avoid spam)
Thank you!
Copyright (c)idomoneyonline.com 2008